shadow garden
berlin, germany
march 2017
client:
kundschafter filmproduktion gmbh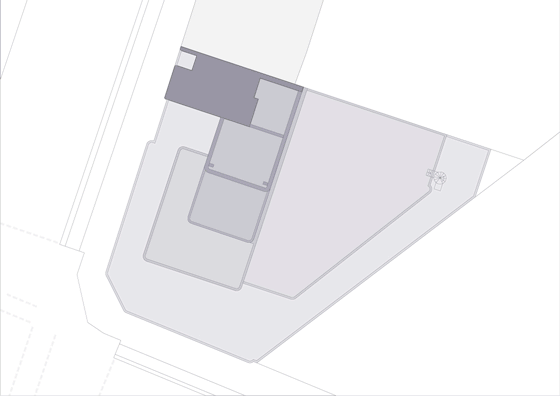 Shadow garden is our proposal to create a green aura around an office building to filter the sun that overheats it.
The building between the Reinickendorferstrasse and the S-Bahn tracks of the circle line in Berlin-Wedding has no other building that throw any shadow on its façade. That can also be a problem for a building built in the late 60s with its main façade oriented to the south-west in a city like Berlin.
The building is a beautiful composition of several volumes with rounded corners, an extensive white washed concrete surfaces and metal panels in most of their façade. Its 5 levels stack up gracefully leaving space for enormous terrace areas that can be used as common spaces.
In order to avoid an overexposure to the sun of the interior spaces in summer, STUDIO RAMOS was commissioned to design a solution within a general concept considering the building as a whole, with its uses and orientations all the year long.
Since the building has already its own language, we liked the idea of creating a system of light structures that let the sun inside during the winter and at the same time serves as infrastructure for plants to grow on it from March to September. Once they are colonized, they work as green walls whose shadows help to cool the interior space while they keep the perception of brightness of the natural light.
Using as guideline the axis of the existing structure of the building and perpendicular directions to the façades, we create the layout necessary to place the new elements of the shadowgarden:
In the levels 1 and 3 the layout materializes into a wood structure that form vertical and horizontal frames that are fixed to large pots on the terrace floor.

In the level 2 metal strings anchored in the façade follow the two main directions generating a mesh.

In the level 4 we fill in the existing concrete pergola with wood stripes to protect the roof top from continuous sunlight.
The shadow garden is a garden that gives not only shadows, but flowers, vegetables, smells and flavours. It creates a new space that engage and expand the co-worker community of the building outdoors.
​